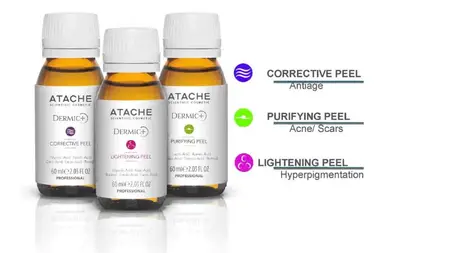 An innovative approach, together with the most advanced dermatological

development, has led to a new dermopeeling system with highly effective, controllable results. With the use of the clinical peels in conjunction with the take-home intensifier, you can effectively control the strength of the peel, giving this line a high tolerance for all skin types, regardless of the time of year.

ATACHE Dermic Peeling Systems:

*Corrective Peel:
Chemical dermo-peel with anti-aging action, formulated with a unique combination of acids and active ingredients that enhance the skin rejuvenation process. Increases cellular renewal and collagen synthesis. Promotes activation of the cutaneous rejuvenation process to correct pigmentation issues. This peel is excellent for anti-ageing.

*Purifying Peel:
Purifying chemical dermopeel, designed with an unique selection of acids and retinol, with oil secreation regulation functions and keratinisation control in oily or ance prone skin. Its renewing action promotes a healthy, even skin. This peel is intended for impure, acne-prone skin.

*Lightening Peel:
A Chemical peel that helps to remove hyperpigmentation and evens out pigmentation variations over the skin, by acting against tyrosinase and TRP-1. This peel is intended to lighten pigmentation irregularities.
Each Dermic-Peel must be followed by the at-home post treatment using ATACHE Intensifier Supreme Youth Sublimation Treatment.